Mobility Scooters for Sale, China Top Manufacturer and SupplierBest for Elderly & Disabled, Lightweight, Foldable, Portable, Direct Factory, Wholesale Price
Trusted by 10,000+ Clients
Mobility Scooters for Sale
Robust Pneumatic Tires With Alloy Wheels To Reduce Weight And Improve Efficiency
Simple To Operate Smart Steering System, With Digital Dash Display Easy To Read
Heavy-Duty Padded Bucket Seat With Adjustable Armrests For Comfortable Rides
Large Wheel Treads, Robust Electric Motor With Great Hill Climbing Ability
Your Best Mobility Scooter Manufacturer in China
XunHu is the premier mobility scooter manufacturer you can find in China. The manufacturer has mastered the art of making electric mobility scooters for kids and adults.
The manufacturing process is efficient and quick, meaning you can order mobility scooters in bulk. The manufacturer can make 1000 sets per year which is a good number.
XunHu makes most of the parts used in making electric mobility scooters. They are premium and meet international standards. Besides, the use of CE-certified parts ensures no safety and quality compromise.
Whether you need any battery mobility scooter, XunHu is the place to look. A large manufacturing facility is a reason you should have trust that your order will take a short time.
Xunhu Mobility Scooters for Sale Cases
XunHu manufactures and sells electric mobility scooters for sale all over the world. With a variety of sizes, models, and styles, they deliver to your destination.
Whether you need electric scooters in bulk, they come packed in containers. The presence of electric scooters in 160+ indicates XunHu product reputation.
XunHu Mobility Scooters for Sale in Ireland, NZ, UK… Get your best electric mobility scooters today.
XUNHU Mobility Scooters Manufacturing Capacity
XunHu Designs Mobility Scooters With High Stability; Over 50 Designs Are Available You Can Also Order Your Preferable Customization.
Mobility Scooters At XunHu Get High Precision Cutting From Laser Machine; Al Parts Are Cut To Millimeter Precision For Reliable Mobility Scooters.
XunHu Mobility Scooter Frame Welding Is By Professionals And Meets Iso Standards; Even When Used Fulltime, No Safety Compromise.
Mobility Scooters Assembling Is In Standardized Production Lines; Professional Assembling Personnel Ensures Robust Structure; Your Scooters Get Uniform Production.
XunHu Experts Test Mobility Scooters Parts Independently; You Can Expect Every Part To Function Flawlessly, Whole Scooter Is Tested In Modern Facility.
XunHu Offers Optional Scooter Parts For Your Equipment: You Can Request For Canopy, Walking Stick Holder And Others; Optional Parts Impoves Your Scooter Convinience
XunHu Mobility Scooters for Sale Advantages
Hot Mobility Scooters Specifications
2 Seater Mobility Scooter Specifications
XUNHU leads the China mobility scooters manufacturers in terms of quality, performance, safety, and affordability. Offering thousands of people a second chance at life, XUNHU assembles hundreds of designs for mobility scooters China variants.
Being one of the leading mobility scooter suppliers, XUNHU offers top-notch quality for large as well as small mobility scooters. XUNHU's mobility scooter factory is equipped with advanced tech and highly efficient cutting, molding, welding, stamping, and assembling lines to offer uniform safety, even for bulk orders.
Choose XUNHU as your mobility scooter manufacturer and benefit from an intelligent speed control system, advanced braking mechanism, adjustable seats, innovative dashboard, smart battery pack, quick charger, and much more, for the lowest prices.
Mobility scooters are outstanding and worth having not only for the disabled but for vacation. With robust designs and ranges, they are great for facilitating easy movement.
When you want to invest in mobility scooters wholesale business, the bulk purchase is cheaper than buying a single unit. Therefore, as you think about scooters, it's great to ensure you get the best quality.
Mobility Scooters for Sale – Full Size, Fold Up, 4 Wheel, Best for Indoor and Outdoor
XUNHU's latest mobility scooters come equipped with safety sensors and speed controllers to provide unmatched safety to the user. Equipped with a comfortable seat design and easy-to-maneuver handle, XUNHU ensures that you can lead an active lifestyle by using its affordable mobility scooters.
XUNHU has both 3-wheel and 4-wheel full size mobility scooter designs available for both the indoors and the outdoors. Plus, you can buy small, medium, or large luxury mobility scooters from XUNHU at the lowest mobility scooters price.
By using the lightweight yet strong aluminum frame, XUNHU has the best mobility scooter for the elderly. XUNHU mobile mobility scooters are able to provide a remarkable range of 20km+ on a single charge. You can also choose from folding designs for electric mobility scooters. They are lightweight and probably the best mobility scooter for outdoor applications as well as indoors.
Being the leading mobility scooter manufacturer, XUNHU offers hundreds of accessories and optional features to choose from usable for different mobility scooter brands.
Your Best Mobility Scooter Manufacturer in China
The search for the best mobility scooter manufacturer should not be there anymore. XunHu is one of the best manufacturers and suppliers of electric mobility scooters.
XunHu uses high-precision manufacturing tools and advanced technology. It, therefore, guarantees excellent quality products. Whether you are looking for electric mobility scooters or spare parts, they are high quality.
Apart from the expertise in manufacturing, XunHu also ensures your scooters have a warranty. The free consumable parts are handy since you don't have to wait for shipment from the factory.
By using experts to do testing, you get assurance every mobility scooter is reliable.
Your Complete Guide to Mobility Scooters
50 years ago, disabled and handicapped people were permanently dependent on others for carrying out basic tasks like walking, going to the bathroom, etc.
Today technology has changed the way we lead our lives. After manual wheelchairs, mobility scooters have arrived to give the sick and the elderly a second chance at life. Handicapped people are leading an active lifestyle using mobility scooters.
If you are looking for a mobility scooter for yourself or someone you care about, with so many options and designs available in the market, it is hard to decide which one is for you.
To help you decide, we have compiled this FAQ guide to assist and educate you. We have tried to answer all the queries you might have and make you take a better decision.
Read this mobility scooter guide to get a better understanding of your options now.
What Are Mobility Scooters?
Mobility scooters are electric mobility aids to assist the elderly, the sick, or people with limited mobility and autonomy to move around. Generally, they are power wheelchairs configured like a scooter.
Powered by a battery pack, gasoline, or human power, mobility scooters feature a seat mounted on a three-wheel or four-wheel base. To help with maneuvering, the handlebar is present with controls and a display mounted for assistance.
Mobility scooters are designed to enable an elderly person to move around with lesser dependability on others.
The mobility scooters are equipped with safety features like a seatbelt, footrest, accessories like crutches holder, etc.
How to Classify Mobility Scooters?
Mobility scooters can be categorized on various bases. Every individual is unique and desires a mobility scooter well suited to his individual needs. That's why different types and sizes of mobility scooters are available.
They are generally classified by:
Size:
Small-sized mobility scooters to help people move around indoors, in hallways, galleries, across rooms, etc.
Medium-sized mobility scooters are intended to be used both indoors and outdoors
Large-sized mobility scooters are mainly designed to be used outdoors on rough terrains
Design:
Foldable or detachable mobility scooters that are portable and can be folded or disassembled to easily travel with you
Non-foldable mobility scooters that cannot be detached into smaller components
Power Option:
User powered mobility scooters that are like big tricycles, used by people who can move their legs to some extent to provide mobility and muscle stimulation, and exercise
Battery-powered mobility scooters that are equipped with batteries of required output
Gas-powered mobility scooters that use gasoline to power the scooters
Seat options:
Wheel drive:
Front-wheel drive where the front wheel is connected to the motor. It provides better handling
Rear-wheel drive where rear wheels are directly connected to the motor to achieve more power
The number of wheels:
Three-wheel mobility scooters
Four-wheel mobility scooters
Classes:
Class 2 mobility scooters
Class 3 mobility scooters
Who Is Eligible For A Mobility Scooter?
Not everyone is eligible to use a mobility scooter. You are only eligible for a mobility scooter if:
You are old, sick, or handicapped and face trouble walking, going to the bathroom, etc.
You have a mental disability that limits your autonomy
You do not have enough upper body strength to use a wheelchair
You are allowed to use a mobility scooter for reasons other than those mentioned above, like:
You are training a person on how to ride a mobility scooter
Demonstrating the vehicle to a customer
Taking the vehicle for maintenance
Is There An Age Limit For Mobility Scooters?
There is no upper age limit for driving mobility scooters as long as the person has enough upper body and required mental strength.
For people so old that they have little hand-to-eye coordination or limited upper body mobility, they are not qualified to drive a mobility scooter on pavements or roads.
For class 2 mobility scooters, there is no lower age limit also. There are mobility scooters designed for kids with disabilities.
For class 3 mobility scooters, the user must be at least 14 years old to legally drive the mobility scooters outdoors.
What Are The Top 5 Mobility Scooters for Sale?
Deciding which mobility scooter is best is different for different users with different requirements. The best mobility scooter for sale is decided on different factors, like:
Your height, weight, and body frame
The intended use of the vehicle
Your power and speed requirement
Whether you need your mobility scooter to travel with you in planes and trains
The extent of your mobility
Today in the market, some of the top brands are:
Drive Spitfire Scout Compact Scooter
EFoldi
EzFold Super Lightweight Foldable Scooter
Red Elephant Scooter
How Much Do Mobility Scooters Cost?
The cost of mobility scooters is different for different makes, models, designs, etc. The cost depends on:
The quality of raw material used
Battery power
Weight capacity
Size of the mobility scooter
Features included like if it is foldable, lightweight, detachable, etc.
Equipped accessories and custom option
The cost usually starts from $800 to 3000$ for mid-range, basic models. The cost can go up to $10,000 depending on the brand, power, size, model, make, custom options, etc.
Why The Price of Mobility Scooters Is Different?
There lies a significant difference in the prices of mobility scooters for sale available in the market. This is because there are tons of options available to choose from.
The outdoor mobility scooters are designed according to the requirement of the customers. People with differences in age, mobility, mental awareness, health, weight, body frame, height, etc. need a unique solution, best suited to their needs.
Due to the vast variety of requirements, different brands and manufacturers tend to address these requirements in their way.
They assemble and manufacture mobility scooters with different power, speed, weight capacity, size, innovative features, safety features, etc. causing the difference in prices.
What is the Material of Mobility Scooters?
Usually, mobility scooters use the following materials in the manufacturing process:
Frame/chassis is usually made of aluminum, steel, or fiberglass to ensure great strength to weight ratio
High-quality plastic for different body parts, display panels, lights, etc.
The rubber is used in tires, armrests, handles bars, etc.
How to Produce Mobility Scooters? – The Manufacturing Process
Different manufacturers and brands incorporate various methods and techniques to ensure speedy and reliable production.
The manufacturing process of mobility scooters for sale is usually similar to different manufacturers. It includes:
Building the frame. Tubes of aluminum/steel are cut, extruded, and shaped to build the chassis of the mobility scooters. Metal drop-saws are usually used to precisely cut individual components that are later drilled as required
Producing mobility scooter components. This step is crucial and highly precise. Usually, CNC machines are used to cut metal tubes and sheets that are later pressed and drilled to make individual components like handlebars, footrests, wheels, etc.
The individual components like seats, harnesses, handlebars, footrests, armrests, plastic pieces, etc. are assembled to the frame.
Structural testing. The mobility scooters are then subjected to alignment testing, joint testing, strength testing, bearing testing, electrical testing, etc.
What Are the Advantages of Mobility Scooters?
For people with restricted mobility and physical freedom, mobility scooters are proven to be highly beneficial.
The advantages are many, including:
Ease of use. Mobility scooters are by far the best means to ensure easy and stable movement. People with limited upper body strength that might have a hard time pushing a wheelchair, can easily learn to ride a mobility scooter
Allowed on public transport. Many mobility scooters are available in compact form factors, small enough to easily travel with you in buses, trains, and planes.
Making daily chores easier. People with limited mobility are highly dependent on others to carry out daily tasks like walking, going to the bathroom, etc. Mobility scooters help them physically as well as emotionally by enabling them to do daily activities without needing constant help.
Easy to use in public. Today, mobility scooters have become so advanced that you can go out shopping with your mobility scooter.
How to Choose the Suitable Model of Mobility Scooters?
There are many deciding factors when choosing a mobility scooter. You should look at what you exactly require from your mobility scooter, like:
Intended use. Decide where you are going to use your mobility scooter. Smaller mobility scooters are better for indoor usage, while for outdoor and rough terrains, choose a bigger mobility scooter
The extent of your mobility. With enough upper body strength and mobility, scooters with handlebars can be used. For people with limited upper-body mobility, choose a scooter that features delta tillers, a handlebar that maneuvers the scooter using the thumb only
Look at the weight capacity of the mobility scooter
Make sure the design complements your height and body frame
Look at how portable is the mobility scooter. Think about how well the design suits your traveling habits.
The comfort it offers
Look at the cost
Safety features and accessories available
How to Choose the Best Mobility Scooter Manufacturer?
The best mobility scooter manufacturer is the one who has been the longest in the business, the one that follows international quality standards and has a good reputation in the industry.
While selecting manufacturer, consider the following points:
The manufacturer follows the internationally established standards of safety while manufacturing the mobility scooters
The manufacturer provides high-quality products and holds international certifications
The manufacturer offers competitive prices and attractive aftersales services.
The manufacturer offers a variety of design variations to choose from to best suit your requirements
The manufacturer offers additional services like 24/7 technical support, multiple modes of payment, etc.
What Is Electric Mobility Scooter?
The electric mobility scooters are the ones that use a battery pack to power themselves. They are equipped with a battery housed in the chassis of the vehicle, charged by the onboard charger.
Unlike manual/human-powered mobility scooters, electric mobility scooters are equipped with innovative mobility options, enhanced safety features, and better control of the scooter.
They are highly customizable to suit the unique needs of different people. With direction switches, speed control, onboard display, etc. electric outdoor mobility scooters help the handicapped more intelligently.
They come in various shapes and sizes, traveling ranges, and speeds.
What Are the Best Brands of Electric Mobility Scooters?
Today, hundreds of brands manufacture indoor and outdoor mobility scooters across the world in different capacities. The best brand is the one that suits your individual needs better than others do.
The performance is measured in terms of safety, range, speed, weight, weight capacity, size, design, etc.
Some renowned brands that have been manufacturing electric mobility scooters for decades are:
Drive Medical
Afikim
EWheels
EV Rider
Pride Mobility
FreeRider
Enhance Mobility
Go-Go Travel Mobility Scooters
Kymco
Meyra
What Is The Best Small Mobility Scooter?
Small mobility scooters usually feature a smaller and more compact form factor of lightweight mobility scooter that is mainly designed for indoor use.
Small mobility scooters have smaller wheels and a small turning radius making them ideal to be used across narrow hallways, doorways, rooms, inside shopping malls, etc.
The best small mobility scooter is the one that:
Is lightweight and has more power to size ratio
Has smaller turning radius
Can easily fit inside the trunk of an SUV
Is portable and can easily travel with you
Some famous brands that make small mobility scooters are Drive Medical, EV Rider, Smart Scoot, Go-Go mobility scooters, and TGA.
How Much Is A Small Mobility Scooter?
Portable small mobility scooters for sale are available for different prices due to key differences in design, weight capacity, mileage, battery size, onboard controls, etc.
You can find a reliable small 3-wheel mobility scooter for 700-1000 USD. Enhanced designs like foldable mobility scooters that fold and unfold with a push of a button are more expensive and are available for 1500-2000 USD.
If you decide to have additional accessories like a crutch holder, travel bag, enhanced seat, etc. you have to pay more according to that.
What Is Lightweight Mobility Scooter? And Why Use It?
The weight of the scooter is one significant factor that is always addressed while selecting a mobility scooter.
People with disabilities and limited mobility prefer a lightweight yet powerful vehicle that is easy to travel with. Lightweight mobility scooters are ideal for running errands, in offices, while shopping, etc.
Their lightweight enables the user to lift them across one or two steps of stairs or a curb with ease.
Since lightweight mobility scooters are smaller, they are not fit to be used on rough terrains, snow, or mud. They are designed for flat, dry, and smooth surfaces.
What Is Folding Mobility Scooter?
Folding mobility scooters are portable small mobility scooters that can be folded into a more compact form that can fit inside a car, travel with you on bus or train, etc., or be taken apart to create a smaller case.
These are lightweight mobility vehicles with a range of 5-10 km per charge. There are various makes and models available in the market.
Some designs feature a manual-folding option. You need to push, bend, and twist components to fold the scooter and move it like a small luggage bag.
While some designs make use of the latest technologies and are fully automatic. You just have to press a button and watch the scooter fold and unfold.
What Is the Buying Guide for Folding Mobility Scooters?
The development and improvement of mobility scooters are evolving every day. They have become necessary, especially for disabled people. Although they are vital when buying, it becomes important to check various qualities.
As you look for a place to source your mobility scooters, many considerations are vital. Apart from looking for the type, color, and other basics, you need to go beyond.
This guide covers the essentials you need when buying mobility scooters.
Consider the following while purchasing a folding mobility scooter:
Do market research and analyze the price trends across different brands, makes, and designs
Make sure you choose the lightweight yet strong and affordable mobility scooter
Consider the weight of the battery as it is going to impact how you travel with your folding mobility scooter
Look for certifications to make sure that they can support your weight and height
Look for options that are easy to fold. There are fully automatic options available but they are a bit expensive
Ask for the dimensions that suit your traveling habits
Look for a scooter that features a quick charging time
Has competitive warranty terms
How Do You Wholesale Mobility Scooters from China?
There are many credible wholesale mobility scooter manufacturers established in China. To place an order, you need to follow these steps:
Research for a reliable wholesale mobility scooter manufacturer. Talk to as many mobility scooter manufacturers as you need to, to come up with the one that best suits your needs.
Negotiate the prices by giving out all the information required.
Once you are in business with the manufacturer, let him know about the MOQ (minimum order quantity) and discuss the lead time.
Your order is then processed. You are required to pay a 30% payment in advance.
Once the order is complete, you can hire an inspection team to carry out a bulk inspection for you.
After you are satisfied with the inspection report, you are required to pay the remaining 70% of the payment and discuss the shipping of your mobility scooters
Which Is Better A 3 Or 4 Wheel Mobility Scooter?
You could choose both types of mobility scooter as they both perform satisfactory with minor differences, like:
3 wheel mobility scooters are the better option for indoor use as they are more lightweight and easy to maneuver in a smaller space. 4 wheel mobility scooters are bigger and are better suited for outdoor travel
4 wheel outdoor mobility scooters are better in balance due to the presence of an extra vehicle. Those people who struggle with balance should opt for 4 wheel mobility scooters.
Usually, 3 wheel mobility scooters have more legroom due to the presence of one wheel at the front. People who suffer from leg or knee injuries can benefit from these models.
4 wheel mobility scooters are usually more expensive than their 3 wheel counterparts.
What Type Of Batteries Do Mobility Scooters Use?
Different mobility scooter manufacturers use different types of batteries in their mobility scooters for many different reasons. Usually, electric mobility scooters use the following type of batteries:
Valve-regulated lead-acid batteries (VRLA) or Sealed batteries. This type is further classified into AGM and Gel batteries
Lithium-ion batteries
Lithium-ion batteries are usually available on a smaller number of indoor mobility scooters. They are the most expensive type of battery.
Mostly, AGM batteries are widely used in mobility scooters. They are cheaper than gel batteries and are suitable for those who make less regular use of their scooter.
Gel batteries are expensive and are suitable for people who make heavy use of their mobility scooters.
Where to Buy 2 Seater Mobility Scooters for Adults?
Many different firms of different capacities incorporate various methods to manufacture and sell 2 seater mobility scooters for adults.
The leading electric vehicle manufacturers and medical assistive equipment manufacturers deal in manufacturing 2 seater mobility scooters.
You can find licensed manufacturers and suppliers in more than 4 continents that deal in manufacturing, technical support, and spare parts for 2 seater mobility scooters.
2 seater mobility scooter features a passenger seat behind the driver seat. These models are bigger, heavier, and more expensive.
What Types of Adult Mobility Scooters For Sale From XunHu?
Xunhu is one of the leading electric vehicle manufacturers in China. They deal in the manufacturing of more than 10 types of electric vehicles.
Xunhu has a range of options available for electric adult mobility scooters to choose from. You can easily get what you are looking for at Xunhu at competitive prices and without compromising on quality, safety, and designs.
At Xunhu, you can find:
3 wheel mobility scooters
4 wheel mobility scooters
Folding mobility scooters
Large mobility scooters
Indoor mobility scooters
2 seater mobility scooters
Lightweight mobility scooters, etc.
Why Choose XunHu as Your Mobility Scooter Manufacturer and Supplier in China?
Xunhu is recognized all over the world for its quality, innovation, strict quality control, and efficient production of electric vehicles.
You should choose Xunhu as your mobility scooter manufacturer, because:
Xunhu has been in business for more than 10 years building a fine reputation for itself
Xunhu ensures strict quality control during production to make sure that the best product is delivered to you
Xunhu products are certified by CE, BV, GOST, SGS, and ISO
Xunhu offers a wide range of mobility scooter options to choose from
Xunhu follows the highest standard of professionalism and safety while manufacturing
Xunhu offers completive prices and attractive aftersales services.
Xunhu offers a wide range of accessories for your mobility scooters
What Accessories Are Available For Your Mobility Scooters?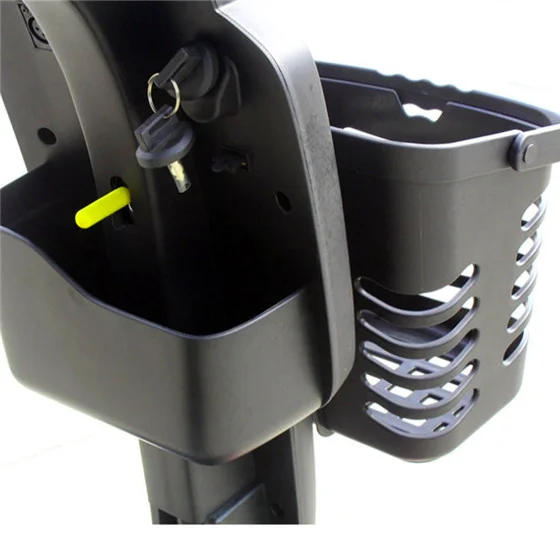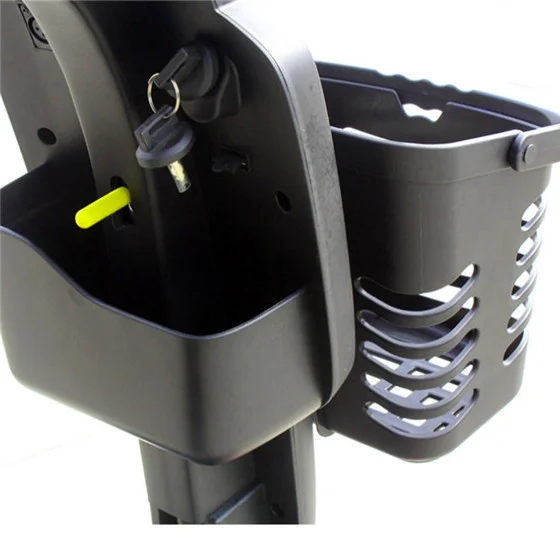 There are many different accessories and customization options available for electric mobility scooters. You can find a wide range of accessories at the manufacturing factory, like:
Crutches and cane holder
Cupholder
Front and Rear Baskets
Scooter cover
Side view mirrors
Oxygen tank holder
Cellphone holder
Walker frame holder
Armrests
Battery pack
Do Your Mobility Scooters Come With Warranty?
Leading manufacturers offer a 4-6 years warranty for the frame of the mobility scooter.
Parts like motors and batteries have a warranty period of fixed time defined as per their manufacturer, usually 2 years for the battery and 5 years for the motor. The shocks, axle bearings, etc. also come under warranty.
Under the warranty period of your mobility scooter, you can get free repairs, part replacement, etc.
When you need to claim a repair under warranty, you must produce the original invoice of the mobility scooter warranty voucher and your identity documents.
Are Battery-Powered Mobility Scooters Street Legal?
Battery-powered mobility scooters are divided into two groups, class 2 and class 3 mobility scooters.
Class 2 mobility scooters are smaller and have a maximum achievable speed of 4 mph. This class is not permitted to be used on road by law. These scooters are for indoor traveling or to be used on pavement.
Class 3 mobility scooters, on the other hand, are bigger, more luxurious, can travel at speeds up to 8-10 mph. These are legally allowed on roads if they are fitted with DOT-approved lights, indicators, registration plates, etc.
These mobility scooters are usually there to replace the use of cars while outdoors.
What Is A Class 2 Mobility Scooter?
Class 2 mobility scooters are lightweight, smaller, and portable mobility scooters. They are fitted with a smaller battery pack and have a range of 6-8 miles per charge.
Class 2 mobility scooters have a maximum speed of 4 mph. They are not street legal, hence cannot be taken out to the roads.
Class 2 mobility scooters feature either a fixed or a foldable design. These are specifically designed to be used inside homes, across rooms, in offices, shopping malls, airports, etc.
You do not need to get class 2 Indoor mobility scooters registered by the state.
What Is A Class 3 Mobility Scooter?
Class 3 mobility scooters are bigger, equipped with more features, more luxurious, and heavier. They are built to be used outdoors.
They usually are equipped with a bigger battery pack that gives it a travel range of 15-20 miles per charge. They can travel at speeds up to 10 mph.
Class 3 mobility scooters are street legal and you are required to get a registration and must be older than 14 years to use them on roads.
You are free to use your registered class 3 mobility scooter on roads if your mobility scooter:
Has DOT approved front and tail light
Has indicators
Is equipped with a horn
Has the maximum weight of 150 kg
Has hazard lights
Is equipped with rearview mirrors
What Is The Difference Between A Class 2 And Class 3 Mobility Scooter?
Following are the major differences between class 2 and class 3 mobility scooters:
Class 2 mobility scooters are more lightweight and smaller as compared to class 3 mobility scooters which are heavier and bigger
Class 2 mobility scooters can go up to 4 mph while class 3 mobility scooters can hit speed up to 8mph
Class 2 mobility scooters have a lesser travel range per charge as compared to class 3 mobility scooters
Unlike class 3, you are not required to get a registration for class 2 mobility scooters
Class 3 mobility scooters are street legal while class 2 are not
Class 2 mobility vehicles are intended to be used indoors while class 3 mobility scooters are designed for outdoor travel
Can You Drive Your Electric Mobility Scooter On The Road?
Only class 3 mobility scooters are allowed on the road as they fulfill the maximum speed requirement of 8mph while on roads.
You need to be older than 14 years and get your mobility scooter registered for on-road traveling. Mostly class 3 scooters are street legal straight out of the factory but you need to make sure that your mobility scooter has:
Working headlight, tail light, hazard light, and indicators
Horn and rearview mirror
DOT-approved tires
Maximum width of 0.85 meters
Working brakes, etc.
What is The Best Indoor Mobility Scooter?
The best indoor mobility scooter is the one that:
Is lightweight and has high power to size ratio
Has a smaller turn radius to help an easy journey across narrow hallways, doorways, etc.
Has regenerative brakes to prevent tipping over while on the slope
Is easy to maneuver across narrow pathways
Is foldable or detachable to easily travel with you in buses, planes, trains, etc.
Features a quick charging
Many famous brands are recognized for assembling highly functional indoor mobility scooters, like:
EV Rider
Drive Medical
Pride Mobility
Xunhu EV
Golden Technologies
Di Blasi
Can A Mobility Scooter Fit In A Car
Small fixed-shaped mobility scooters can fit in an SUV. A car trunk might find it hard to accommodate a mobility scooter.
To solve this problem, there are portable mobility scooters available that are specifically designed to be stored in a car trunk.
These are either detachable, where a portable mobility scooter is taken apart into its components and stored in a car, or foldable, that either automatically folds or you have to fold them manually.
The concept here is to make a mobility scooter smaller enough that it can travel with you as your luggage.
How Do You Check A Mobility Scooter Battery?
The mobility scooter is dependent on its battery. Mobility scooter batteries are designed to hold a charge for longer periods.
In the case of car batteries, they are used to start the car. After that, the car begins to charge the battery. In the case of mobility scooters, this is not the case.
A mobility scooter should hold its charge for a longer period. If the battery begins to discharge quickly when you push on the accelerating lever, the battery needs replacement.
Mobility scooter batteries are tested by an instrument called a capacity tester that discharges a fully charged battery at a constant rate to determine how long does the battery last.
How Much Does A Battery Cost For A Mobility Scooter?
Mobility scooters mostly use AGM batteries and Gel batteries. AGM batteries are cheaper and cost anywhere around 150 USD to 300USD depending on the power you require.
Gel batteries are a bit expensive. They are priced at 250 USD to 400 USD depending on the brand and Ah rating you need.
Lithium-ion batteries cost the most and they are not usually used in a lot of designs. These batteries fall in the price bracket of 400-600 USD.
How to Buy and Ship Mobility Scooters from China?
The buying procedure and the terms for mobility scooters are as follows:
You confirm your order by contacting the sales team over a phone call or by visiting in person. Your order is confirmed and you are notified
You pay 40% of the payment in advance.
The manufacturing process starts
You are informed via email or a video link once your order is completed
You provide the remaining 60% and confirm the shipping address to the manufacturer
Your order is shipped as per your requirement and your goods are delivered to the port
You can avail of different payment methods as per your comfort.
Usually, mobility scooters are shipped overseas via ocean or by air. You are required to confirm your preferred method with the manufacturer.
What's the Best Mobility Scooter to Buy?
Buying the best mobility scooter is what everyone desires. But you need to evaluate your target brand to ensure the quality and features are up to your expectations.
XunHu, for instance, has some of the best mobility scooters from China. Some of the models they manufacture include.
Adults mobility scooters
Adults mobility scooters
Outdoor mobility scooters
Kids mobility scooters
Folding mobility scooters
2-seater mobility scooters
All-terrain mobility scooters
The scooters have the latest technology and excellent features for disabled people.
Especially, the double-seater electric scooter is excellent for disabled and older adults.
What Is a Mobility Scooter Used For?
When many people see mobility scooters, the first impression is that the user must have a disability. It is somehow true but not always.
Of course, handicapped people are the most users. Besides, there are other users like the elderly with walking problems.
Some of the uses of the electric scooters are;
Shopping
Vacationing
Transporting disabled people
Leisure
How Much Are Mobility Scooter Batteries?
Well, when you have an electric scooter, no refueling is needed. Instead, recharging once the battery charge falls recommended rate.
Batteries differ depending on the type. You can opt to supply original or generic batteries. However, original batteries might be a bit more costly than third-party manufacturers.
On the other hand, lithium batteries are more expensive than their lead-acid counterparts.
On average, mobility scooter battery wholesale price is about $30-$50 for a deep cycle. Lithium-ion batteries can sell at $50-$200 per piece.
How to Charge Mobility Scooter?
One of the best maintenance of scooter batteries is through regular charging. When charging the battery, it's essential to take care of the following issues.
Always use the correct charger (supplied or replacement charger).
Charge your scooter immediately after use or charge twice a week if it's not in use.
Keep in mind the voltage. Charge your scooter using the right and recommended electric current.
Charge your battery for at least 8 hours and not more than 24 hours. Avoid overcharging as it can weaken the battery.
Before charging, read the user manual to ensure you make the charging right.
Some scooters come with removable battery packs, while in others, you plug the scooter. Regardless of this, charging is similar.
Turn off your electric scooter.
Connect the charger to the scooter.
Plug the charger into the socket and switch on the power.
Check whether the charger is charging; when charging, the indicator light will be red and green when full.
Charge for the recommended time according to the battery manual.
When the charger light turns green, its battery is full. Disconnect the charger from the scooter and wall socket.
Turn on the mobility scooter to confirm the battery is fully charged before driving.
How Long Does It Take to Charge a Mobility Scooter?
The charging time is always indicated on the electric mobility scooter for sale manual. Therefore, before you charge, read the manual.
However, as a rule of thumb, charge the scooter battery charge battery for 8-10 hours. Avoid overcharging as much as possible since it weakens your battery.
Where to Buy Mobility Scooters?
Buying mobility can be a hassle since there are many sellers. But, if you want to enjoy cheaper and great customer service, direct purchase from the manufacturer is the best move.
China has some of the best and most affordable electric mobility scooter manufacturers. XunHu is one of the recommended manufacturers and sellers of mobility scooters at wholesale prices.
Mobility Scooter Vs. Electric Wheelchair?
Are you torn between buying a mobility scooter and a wheelchair? The two are designed to allow easy mobility for handicapped people. But the scooter offers more versatility.
The table below offers a summarized comparison between an electric mobility scooter and wheelchairs.
 
Mobility scooter
Wheelchair
Power
Mobility scooters are electrically powered.
Wheelchairs are either manually pushed or electric powered.
Mobility
They are designed for people who have some degree of mobility.
They are also used by people who have difficulty walking or have a total inability to walk.
Usability
Mobility scooters are ideal for indoor and outdoor situations.

To access some buildings, you must have a disabled pass.

Electric wheelchairs are mostly preferred indoors due to their low turning radius and high maneuverability.

Also, you need a disabled pass for some buildings.

Speed and range
Mobility scooter offers a better range. Some of the models can achieve 10km/h and a range of 50km.
Manual wheelchairs are limited when it comes to speed.

Also, electric wheelchairs have a limited range of 30km per charge and a speed of 6Km/h.

Ease of use
The scooters have tillers that enable steering. They are not friendly when you have arms complications.
Electric wheelchairs have a joystick in the armrests. This makes usability easy even for users with arms issues.
Mobility Scooter Vs. Golf Cart
You might be wondering whether to go for a golf cart or electric mobility scooter.
Some people prefer to use golf carts instead of electric scooters. This is because golf carts have more capacity and speed.
You can have a golf cart that can carry two or four passengers. If you have more people in need of walking aid, it's easy to use golf cart scooters.
Even though golf carts mobility scooters are great, they are not great for indoor places.
If you want to invest in golf carts over mobility scooters, consider where you are going to use them.
Mobility Scooter Vs. Car
When choosing whether to go for a car or mobility scooter, you need to examine many things. Decide whether you want it for vacation, mobility, and other uses.
For people with mobility issues, you can have a car and still go for a scooter. These days we have foldable mobility scooters that can fit in your car trunk.
Also, scooters can't go for long distances like cars. If you are traveling long-distance, a car is a good option
Scooters, on the other hand, are great if you don't travel far. A powerful scooter can cover up to 50km, but speed isn't great.
The choice of a car or mobility scooter depends on your target users.
What Are the Mobility Scooter Accessories?
When you buy a mobility scooter, you will be tempted to add accessories. They don't come with the scooter; rather, you need to fix them.
Some of the accessories are mandatory if you will use the scooter on the road.
Some of the accessories are;
Helmet
Storage bag
Basket
Alarm
Amor jacket
Phone holder
Cup holders
Hooks
Turn signals
Headlights
Florescent turn jacket
Rearview mirrors
Mobility Scooter Lithium Battery Replacement
Over time, your scooter battery range will reduce. As with all batteries, efficiency reduces over time.
The best option is to upgrade your battery once the range reduces.
Your battery can go up to 24 months with proper maintenance and care. This is the best it can perform and after that consider a replacement.
Lithium batteries for replacement are nowadays available. Although they are a bit expensive, they are powerful and require near-zero maintenance.
Many manufacturers sell Li-Ion batteries, and you can get the best one at an excellent price.
What Are the Mobility Scooter Prices?
The price of a mobility scooter differs depending on the features it has. The more feature, the higher the price.
Also, buying bulk mobility scooters will save you a good amount of money. The average wholesale mobility scooter ranges from $600 – $2,500.
A basic 3-wheel scooter will cost less, while a heavy-duty all-terrain mobility scooter will sell at a higher price.
Summary
The same type of mobility scooter is not going to help people with different needs and requirements.
Even after opting for a mobility scooter, the challenge comes that which one to buy.
Thousands of mobility scooters are available. Not every design is going to suit everyone. You have to take into account your weight, your height, the extent of your mobility, your daily routine, your traveling habits, etc.
We have tried our best to help you choose the right mobility scooter for you. We hope that now you are in a better position to make a decision.
Welcome you to Xunhu mobility scooter factory.