4 Seater Golf Carts for Sale Your Best Manufacturer and Supplier in China
Trusted by 10,000+ Clients
4 Seater Golf Carts for Sale at Good Price
Smooth, Powerful Motor With Silent And Eco-Friendly Operation, No Emissions
Powerful Suspension Systems For Stabilizing And Keeping Riders And Cart Safe
Fast Charging Batteries To Maximize The Running Time, Great Ground Clearance
Improved Weight Capacity, Up To 480kg Carrying Capacity, Simple To Customize
Your Best 4 Seater Golf Carts Manufacturer in China
XUNHU is your best and leading 4 seater golf carts manufacturer in China. Supplying electric golf carts and lifted golf cars, they are reliable to operate in different terrains.
Using advanced technology in the manufacturing process, there is high-quality consistency. Also, manufacturing experience is huge since XUNHU started production in 2011.
The different designs in 4 seater golf carts give you peace of mind and freedom. You can have different optional features depending on your requirements.
Every golf cart spare part has high precision manufacturing. This gives 4 seater golf cars boast reliability throughout the operation time.
Certification by CE, ISO, and related organizations makes XUNHU a leading golf car manufacturer. 4 seater golf cars meet international standards.
Xunhu 4 Seater Golf Carts for Sale Cases
You can find XUNHU 4 seater golf carts for sale in many places around the world. They are in the most reputable golf courses, airports, farms, and other places.
The main users are spread around the world in 100+ countries. You can find them in Europe, the Americas, Africa, Asia, and Australia.
XUNHU ensures you get your golf cart anywhere in the world.
Xunhu 4 Seater Golf Carts Manufacturing Capacity
XUNHU Use Latest Precision Cutting Laser To Cut Steel; High Tech Operation Ensures Great Manufacturing, Not Dents Or Deformations.
4 Seater Golf Carts Have Compression Molding Panels, The Technology Ensures You Cart Is Robust, Panels Are Strong And Long Lasting.
4 Seater Golf Carts Frame Has Sturdy Structures; High Tech Production Line Ensure Golf Cars Runs Flawlessly.
4 Seater Golf Carts Painting Is Up To Perfection; Painting Workshop And Technology Meet International Standards, Paint Is Weatherproof.
Modern Standardized Assembly Line With Vertical Integration Process Ensures Premium Quality 4 Seater Golf Carts; Production Ensures Amazing Reliability.
XUNHU Has A Modern And Reliable 5 Km Testing Track, It Has Bumps, Inclination And Other Test Features For Best Testing.
XunHu 4 Seater Golf Carts
Golf Cart Customized Color
Xunhu is a reliable manufacturer of 4 seater golf cars for sale in China. Certified by CE, BV, GOST, SGS, and ISO. Xunhu 4 seater electric lifted cart is assembled with care, quality, and by following the highest standards of safety.
We offer quality features like stylish appearances, long-range no-maintenance batteries, highly efficient motors, and much more.
Backed by a decade of experience and trusted by 10,000+ satisfied customers all over the world, you are guaranteed to avail of superior ride experience and top-notch quality.
Xunhu enjoys great professional terms with all leading ports and airlines in China and ensures safe, reliable, and quick shipping all over the world.
Considering buying golf carts for sale 4 seater? Xunhu is your best bet, given the state-of-the-art manufacturing equipment it uses.
Choose from different features, designs, color schemes, seating options, accessories, and various shipping plus payment options for 4 seat golf cart for sale.
Still, have questions? Give our team a call today!
4 Passenger Golf Cars For Sale with Cheap Pirce
XunHu has various 4 seater golf carts for sale for everyone. With so many customization and design options to choose from, Xunhu maintains its superiority over the competition.
Our professional design team assembles elegant 4 seater golf cart body kits over robust chassis. Powered by maintenance-free batteries, an efficient motor controller, and a powerful motor, Xunhu 4 seater electric golf cart is perfect for golf courses, residential communities, camping trips, and daily outings.
Highly reliable suspension and sturdy braking system installed in Xunhu 4 seater golf carts give you the comfort and safety you deserve.
Visit our factory to know more or send us an inquiry today.
Your Top 4 Seater Golf Cart Manufacturer and Supplier in China
XUNHU is your top and leading 4 seater golf cart manufacturer. The professional manufacturing and high technology make XUNHU one of the best manufacturers.
Besides the fantastic manufacturing technology, there is excellent pricing. 4 seater golf carts from XUNHU are cheaper yet high quality. You always enjoy a great advantage when it comes to price.
The production of 4 seater golf carts meets the certification needs. XUNHU has CE and ISO certifications.
XUNHU offers a full range of services. From manufacturing, shipment, and servicing, you enjoy exceptional services.
The extended 4 seater golf carts for sale come with a great warranty. You get free replacement parts as well as ready spare parts.
4 Seater Golf Carts: The Complete Buying Guide for You
Are you a golf enthusiast and intend to buy a 4 seater golf cart for personal use? Or do you own a golf course and looking forward to adding golf carts to your fleet? Are you confused about the available options and do not know what might work best for you?
With so many options, designs make, and models available in the 4 seater golf cart for sale market, it is not very unusual to get confused.
Whichever is the case, we have compiled this FAQ guide for you to help you understand the business of 4 seater golf carts, help you decide which types of golf carts best suit your needs, and from where to buy those.
Read the list now…
How Much Is A 4 Seater Golf Cart?
4 seater golf carts can cost you around $3000 to $12000 for electric variants, while more than $5000 for gas variants.
4 seater golf carts incorporate bigger battery power and a bigger motor to push the payload. Popular brands charge $12000 for 4 seaters and almost $9000 for used golf carts.
Leather seats, cooler, headlights, enhanced safety features, etc. can further add to the 4 seater golf cart for sale cost.
Xunhu is one of the leading golf car manufacturers in China, and 4 seater golf carts from $3000-6000, very competitive price rang.
You can get the best 4 passenger golf carts price now.
Where Can You Use 4 Seater Golf Carts Other Than The Golf Course?
While golf carts for sale are mainly designed to be used on the golf course.
Due to more passenger capacity, 4 seater golf carts can serve many different purposes.
XunHu 4 seater golf carts can be used in:
Airports
Hotels
Resorts
Real Estate
Hospital and medical facilities
Shopping centers
Amusement centers and parks
Large Factories
Gaming arenas
Tourist points and zoos
Theme parks, etc.
You can also let XunHu customize the 4 seater golf carts and electric golf cart shuttles for your special need.
2, 4, and 6 Seater Golf Cars & Golf Carts, How to Choose?
Golf carts are available in different designs and seating capacities.
Selecting the golf cart passenger capacity mainly depends on your requirement and your budget.
2 seater golf carts are basic versions usually suitable for 2 passengers, and come with a smaller battery pack and lesser power.
4 seater golf carts for sale have a separate storage capacity for golf clubs and golf equipment. Carts with more seating capacity require a bigger battery and a stronger motor. The batteries range from 24V to 36V in 4 seater golf carts.
6 seater golf carts for sale have a battery power of more than 48V.
They are ideal for transporting a group of people on a golf course and even on road.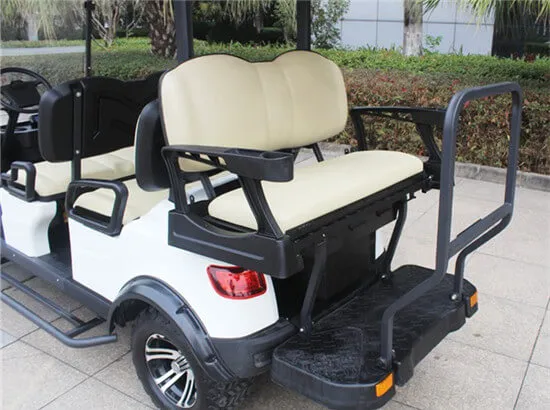 Where Can You Buy 4 Seater Golf Carts From?
4 seater golf carts are readily available in almost every country.
With the increase in interest in golf, more and more golf courses are being constructed and people are spending more on buying a golf carts.
Different leading automobile companies manufacture golf carts in the USA, China, UK, Canada, and more countries.
4 seats golf cart suppliers and dealers offer new as well as used golf carts.
The 4 seater golf cart for sale price depends on the design, power, and overall physical condition of the cart.
Spare golf cart parts, batteries, and motors are available all over the world.
You need to do your research to find a reliable 4 seater golf carts supplier.
How Do I Choose A 4 Seater Golf Cart?
You need to first set a preference for whether you need an electric 4 seater golf cart or a gas one. After carefully considering the pros and cons of the two variants, you need to look at the following features and make sure they meet the price asked:
Inquire about the performance of the golf cart
If you are buying a used 4 seater golf cart, try to know how many people have owned this cart previously to understand the amount of maintenance it received
Look at the main parts, the battery, and the motor
Model, make, and age of the frame
Warranty if available
Confirm which accessories are part of the deal
Check if the owner is willing to negotiate the 4 seater golf cart price
Test drive the cart to see the performance, check the leaks, and see how is the overall condition
What are the Optional Parts for XunHu 4 Seater Golf Carts?
Basic 4 seater golf carts are equipped with basic elements required by golfers on a golf course. They will carry you around on a golf course with no problem but there are optional parts available for a price.
At XunHu, you are presented with an option to install additional accessories on the 4 seater golf carts. The options include different paint jobs, media player, windshield, wipers, cooler, ball cleaner, fan, custom seats, storage trunk, custom tires, etc.
Get the 4 seater golf carts price now.
What Color Are The 4 Seater Golf Carts For Sale?
4 seater golf carts for sale are available in every color you desire. Due to plastic or steel outer body, it can be spray painted at a local dealership to get you the color you want.
Typically, golf carts are painted in green or off-white colors to complement the golf course. If you own a golf cart, there are no limits to creativity.
Usually, bodies of 4 seater golf carts are first sanded with grit papers and thoroughly washed with water. You can choose different paint options while purchasing your 4 seater golf carts. You let the manufacturer know about your choice and they can follow.
What Models Of 4 Seat Golf Carts For Sale From Xunhu Company?
Xunhu has been in the golf cart business for more than 10 years. Different design variants are available for 4 seater golf carts to choose from.
You can visit the factory or check their online store to choose which cart suits your individual needs. Different types and makes include:
Basic 4 seater golf cart
Different colors are available
Enhanced chassis support 4 seater golf carts
A large canopy, off-road design 4 seater golf carts with customized tires
4 seater lifted golf carts
4 seater golf carts with enhanced batteries and traveling range
Are 4 Seater Golf Carts Street Legal?
4 seater golf carts that are straight out of the factory are only to be used on a golf course and nowhere else due to strict laws in place that prohibit such vehicles to travel on roads.
4 seater golf carts only become street legal if they meet certain requirements. Every state has a different set of rules when it comes to making a golf cart street legal. Key requirements are:
Your golf cart must have:
Working lights (headlight, tail lights, turn signals)
DOT-approved tires, windshield wiper, and working seatbelts
Minimum top speed between 20-25 mph
A vehicle identification number
Interior and exterior-mounted mirrors
Speedometer
Working horn
Reflex reflectors on all corners of the cart
A license plate bracket
Insurance
Certificate of vehicle's registration
Driver's license and tag
Slow-moving vehicle sign
What Is The Length Of A 4 Passenger Golf Cart?
The base length of 4 passenger golf carts varies from model to model. On average the base length lies between 100-120 inches to support 4 passengers.
The base length remains the same even if you add a storage trunk to your golf carts. They are 45-50 inches wide depending on the model and make of the 4 seater golf cart.
Usually, the rear tires are bigger than the front ones and the ground clearance lies between 4-6 inches and can be changed.
How Long Do 4 Seater Golf Carts Last?
The 4 seater golf cart frame remains in good condition for more than 20 years of use while the batteries last nowhere near to such time frame. The working life span of batteries along with the charger is 4-6 years and after that, they must be replaced.
This depends on several factors. The average lifespan of 4 seater golf carts varies heavily with different factors and all must be addressed.
The estimated life range of golf carts is 5-7 years on average. It can be stretched to 10-12 years based on how well they are maintained.
Electric golf carts for sale, as well as gas golf carts, have the same life span while gas golf carts are costly to maintain.
Motors, if well maintained, can last up to 5 years without issues.
What Is The Most Reliable 4 Seater Golf Cart Available?
When it comes to the reliability of 4 seater golf carts, the following are the main competitors:
All for golf cart manufacturers make reliable and quality 4 seater golf carts.
Club cars are popular golf carts used around the world for their unique design and available accessories.
Yamaha makes golf carts that are cheaper to maintain and operate. Switches in Yamaha are made of TEFLON and are shielded with rubber to make them rustproof, while in the case of EZ-GO, metal switches are used.
Xunhu has a wide selection of 4 seater golf cars for sale at great prices to help you get creative.
Contact Xunhu to get the best price now.
Are Electric 4 Seater Golf Carts Better Than Gas?
It is a personal choice for everyone regarding how they like their 4 seater golf cart. Both variants have their pros and cons. A brief comparison is given as follows:
Speed: Electric carts have more top speeds as compared to their gas counterparts
Acceleration: Gas carts accelerate quickly than electric golf carts
Range: Gas-powered carts have more range on a single tank as compared to electric carts on a single charge
Power: Gas-powered 4 seater golf carts offer 3-4 times more power than electric variants of the same capacity so they handle rougher terrains and steeps slopes better
Cost: Electric golf carts are cheaper to buy, operate, and maintain as compared to gas-powered golf carts
Noise: Electric carts are quieter than gas-powered carts and they are environment friendly.
Does Gas Or Electric 4 Seater Golf Carts Last Longer?
When it comes to range, you can get more energy by burning gasoline than any other form of energy due to its readily burning nature.
4 seater gas golf carts can travel 25-30 miles in 1 gallon of gasoline. If you are not concerned with the carbon footprint you leave behind and the noise that the engine makes, gas-powered 4 seater golf carts last longer than electric variants.
Electric variants have an advantage over gas variants regarding the lesser cost to operate and maintain due to the presence of lesser moving parts.
Should 4 Seater Golf Carts Be Plugged In All The Time?
A golf cart battery is not designed to be plugged in constantly. You should never leave your 4 seater golf cart plugged in all the time or plugged in overnight. This practice can cause irreversible damage to the batteries.
You should look out for charging time and unplug the charger once the batteries are fully charged to prevent overcharging. Modern chargers are equipped with a safety feature to stop charging once batteries are fully charged.
Never let the batteries get fully drained. You should charge them after every use.
What Should I Look For When Buying A 4 Seater Golf Cart?
It is your own choice on how you like your 4 seater golf cart. It depends on your budget, your lifestyle, and your requirement.
If your budget is less than $8000, and you prefer quieter vehicles, electric 4 seater golf carts are the best option
If you prefer extra power to climb hills and slopes, gas-powered 4 seater golf carts work best
If noise and gas emissions are under surveillance in your area, buy electric golf carts
Make sure the body and chassis are in good condition
Check the battery power to see if they suit your requirements
Look at the reputation of the manufacturer
Make sure the manufacturer follows the highest standards of safety and the finest quality of raw material
Check the condition of the batteries and safety certifications
Which Is Better 36v or 48v 4 Seater Golf Cart?
It depends on how you are going to use your 4 seater golf cart. There is not a huge difference between 36V and 48V batteries. Both perform satisfactorily. Consider the following while making a choice:
A 48V battery has higher starting torque and accelerates faster than a 36V battery
A 48V battery draws fewer amps and provides an extra range for the same payload and terrain
48V battery performs well on rougher terrains. It handles hills and steep slopes better than 36V batteries which are ideal if you are driving your cart on flat, smooth, and dry surfaces or just cruising around in a neighborhood
48V batteries are expensive than 36V batteries
Both batteries provide almost the same top speeds
What Is The Best 4 Seater Electric Golf Cart To Buy?
There are different features to be considered within the category of 4 seater golf carts to find out what works best for you. Those features include:
Body strength
Brakes and suspension
Type and performance of the battery
Type and performance of motor
Range
Speed
Cost
Ability to handle rough terrains, etc.
If you prefer fast-moving 4 seater golf carts, choose gas variants. If you are concerned about noise or operational costs, electric 4 seater golf carts are better choices.
How Much Does 4 Seater Golf Cart Batteries Cost?
Today, there are different types of batteries available in the market designed to serve different purposes. They come with different price tags.
Usually, golf cart batteries cost from 800 USD to 1500 USD depending on which type of battery you need (dry or wet). High-end battery replacement can cost you around 2000 USD if you are dealing with 72V battery packs.
The battery packs that are least expensive tend to have the least range.
Can You Negotiate 4 Seater Golf Cart Prices?
If you are buying a new 4 seater golf cart, prices are fixed. You can enjoy great after-sales deals but negotiating the price of a new golf cart would not end at a lesser price.
But in the case of used carts, Asking for a lower price does not harm as all they can say is No. Prices of automobiles are always up for negotiation. You should conduct market research to get an idea of the real value of used golf carts in markets. Negotiation can be based on:
The physical appearance of the cart
Make and model
Condition of the engine in case of gas 4 seater golf carts
Condition of batteries in case of electric 4 seater golf carts
Prices of the same model in the market
Warranty status of the vehicle
Accessories available with the cart
How Are 4 Seater Golf Carts Packed For Delivery?
4 seater golf carts are usually packed in iron, aluminum, or wooden frames with a plastic sheet wound around for the safety of the carts. If you are purchasing golf carts in bulk, they are individually packed in iron frames or placed in the container or trailer in bulk.
This whole process is usually done by the manufacturer, supplier, or freight forwarder.
The vehicles are chained in place with their handbrakes engaged so they do not move out of place. You should inspect the vehicles for damages when you receive them.
Can You Ask The Manufacturer To Customize The 4 Seater Golf Cart For You?
4 Seater Golf Carts For Sale Colors
Yes, 4 seater golf carts have limitless options for customizations available. You can ask the manufacturer for additional options like a fan, cooler, ball cleaner, additional storage, different colors, etc.
You have to pay additional costs for the customization. Manufacturers offer different designs as well to suit your needs like powerful battery, enhanced tires, windshield options, leather seating, tread designs, etc.
How Much Does A Luxury 4 Person Golf Cart Cost?
luxury 4 seater golf cart for sale
A luxury 4 seater golf cart for sale has no cap when it comes to spending.
Usually, luxury golf carts start from $6000 and move up to and beyond $27000. The price can go even higher depending on the make, the model, the luxury features you would like to have, extra options, etc.
The batteries included in such golf carts are also high-end. Leather seats, enhanced dashboard, premium tires also keep adding to the cost. High-end automobile manufacturers like Mercedes-Benz launched their golf cart for an extravagant price tag of $76000.
Why Are 4 Seater Golf Carts So Expensive?
Four seater golf carts are expensive for the following reasons:
They utilize a bigger frame to support 4 persons
4 seater golf carts incorporate bigger batteries, usually 48V. This adds to the cost
A bigger motor is used to push a bigger payload
Extra seating capacity adds to the cost of your vehicle
Bigger carts are already equipped with some additional safety features like seatbelts, etc. that keep the costs high.
How Are 4 Seater Golf Carts Tested Before Delivery?
4 seater golf carts are tested at the factory as a part of their manufacturing process to ensure that you get to enjoy maximum safety.
Structural and fatigue tests are applied to test the durability of the frame and major components to assure that they will not break. 4 seater golf carts are test-driven to simulate real driving conditions.
Moreover, they are placed in the environmental test chamber to see how they handle real weather changes.
When the chassis is welded together, it is thoroughly tested for wraps, cracks, and bends. The paint is tested for uniform coating.
The axles are filled with oil to check for leakages, etc. Batteries and tires are also load tested.
How Much Time Does It Take To Deliver 4 Seater Golf Carts To You?
It depends on the fact that from where you are getting your 4 seater golf cart shipped. If it is from a dealership located in your state, all you need is a trailer to pick up your vehicle from the dealership and deliver it to your doorstep.
If you are having your 4 seater golf cart shipped from other states, trucking companies are expensive but can deliver within a day or two. You can opt for railway transportation to have your cart shipped to the nearest unloading area in 15-30 days after the manufacturing starts.
Can You Make A 4 Seater Golf Cart Go Faster?
There are many ways to get your 4 seater golf cart to move faster:
Using a bigger battery size in your golf cart can make it go faster.
Adjusting the governor of gas-powered 4 seater golf carts
With bigger batteries, you need to find a bigger motor and compatible motor controller as well which makes it expensive as you are required to upgrade the whole circuit.
The cheapest method is to use bigger tires. If you increase your 8" tires to 12", you can see an additional speed of about 4 MPH as more ground is covered in a single rotation of the wheel.
Which 4 Seater Golf Cart Is Faster Gas Or Electric?
Both gas and electric 4 seater golf carts perform satisfactorily when it comes to speed with few differences.
Gas 4 seater golf cars have higher top speeds as compared to gas variants of the same size and capacity. They perform well while climbing hills and handling greater loads and rougher terrains.
Electric 4 seater golf carts have lower top speed as compared to gas ones but they accelerate quite quickly. It takes a shorter time to attain top speeds in the case of electric golf carts. They tend to slow down while climbing steeper hills and when under overloading.
Is There A Blue Book For 4 Seater Golf Carts?
4 seater golf cart for sale prices
4 seater golf cart prices are not found the way someone would look for car prices. There is no blue book for golf carts. You need to do your research and homework to figure out the price of the cart you are looking at.
If you want to purchase a 4 seater golf cart or want to sell your golf cart, you need to conduct market research and see for what prices are the carts available that are similar to your cart in make and model.
There are online websites, newspaper sections, online blogs, and even agencies that can conduct market research to get you the best prices for the model you are looking at.
What Are The Dimensions Of A 4 Seater Golf Cart?
4 seater golf cart dimensions vary from model to model and from manufacturer to manufacturer. They are generally bigger versions of 2 seater golf carts with additional space and storage capacity.
Average dimensions are given below. They may vary for different 4 seater golf carts:
LxWxH 108x48x71 inches
Wheelbase 66-70 inches
Ground clearance 4-7 inches
Front tires/rear tires 36/40
Vehicle weight 1000-2000lbs (depends on added features)
4 Seater Vs 6 Seater Golf Cart, Which One Should I Buy?
That depends on your own choice and requirements.
If you are interested in a compact design to help you travel the golf course with limited people and equipment, and you do not intend to spend more than you should, 4 seater golf cart is a better choice.
While if you require additional power and you intend to use your cart on road for short family trips or use them inside airports or factories, you require additional space and power. For that case, it is suitable to buy 6 seater golf carts.
Do 4 Seater Golf Carts For Sale Come With A Warranty?
Leading manufacturers offer a 1-2 years warranty for the frame of the 4 seater golf cart. Parts like motors, batteries, engines, etc. have a warranty period of fixed time provided by their manufacturers, usually of 1-2 years. Other than the frame of the golf cart, shocks, axle bearings, etc. also come under warranty.
Under the warranty period of your vehicle, you are entitled to a fixed number of free tuning, free maintenance, and repairs, onsite technician visits, etc. You get parts for free but you might need to pay the shipping expense in certain cases.
After the warranty period is over, you have to pay for the parts.
Are All 4 Seater Golf Cart Seats The Same Size?
In 4 seater golf cart, the front and back seats are of the same size. There is hardly any difference between front and rear seats in terms of dimensions.
The rear seats, in some cases, have a flip-close feature that allows you to flip bend rear seats to make extra room for luggage. Usually, the seats are bench-shaped. In modern 4 seater golf carts, some manufacturers add separate seats for passengers instead of 1 bench-type seat.
Which Brand Golf Cart Is Best?
Many international brands are competing to get the first spot when it comes to assembling the best 4 seater golf carts. Different brands are known for their different qualities.
With the growing golf industry, the golf cart market has become highly competitive. Many manufacturers and brands have started making golf carts.
Some popular brands are:
Club Car
EZ-GO
Yamaha
Polaris
Garia
Carty on
Do 4-Seater Golf Carts For Sale With Covers?
Some leading manufacturers sell covers for 4 seater golf carts as part of the deal. But in most cases, you have to purchase the cover for your golf cart separately.
As for automobiles, covers for 4 seater golf carts are available in different designs, fabric, sewing style, colors, etc.
You can purchase them from dealerships starting from 40 USD to 500 USD depending on the size, type, and fabric of the cover.
These covers are available online on Amazon, eBay, Walmart, etc.
How Many Miles Will A 4 Seater Golf Cart Go On A Full Charge?
Electric 4 seater golf cart range depends on various factors like:
Condition of the cart
Battery condition
Acceleration of the cart
Passengers riding
Track condition, etc.
Tire conditions
Normally average range for an electric golf cart is 25-40 miles in one full charge. Range may decrease if the battery is overloaded; you are towing weight or traveling uphill.
How to Charge Your 4 Seater Golf Cart?
You need to follow these precautions when charging your 4 seater golf cart:
Position the golf cart on a level surface. Make sure the charging area is well ventilated and dry.
Make sure the key is off and the body is stable.
Always use the recommended extension cord type as mentioned in the user's manual.
Inspect the extension cord for cracks, loose connections, damaged insulation, and frayed wiring.
Never use a damaged extension cord while charging your golf cart.
Always connect the charging cord to the vehicle's charge receptacle first, and then plug the cord into a wall receptacle to minimize the risk of sparking
Do not cover the cart to prevent the accumulation of hydrogen or CO. Don't leave your cart plugged in overnight
Recharge the battery after every use. Don't let the battery drain fully
Can 4 Seater Golf Carts Go Up Steep Hills?
Both electric and gas-powered 4 seater golf carts can climb hills. Gas-powered golf carts tend to do it better with better acceleration and moving up steeper hills.
The ability of an electric golf cart to go uphill depends on the battery output. New 4 seater electric golf carts perform better due to better battery output.
Gas-powered variants burn gasoline so they can travel uphill faster as they produce more power. Old batteries in golf carts can limit their ability to climb hills.
How Many Miles Can A 48v 4 Seater Golf Cart Go?
If not overloaded, a 48-volt golf cart offers many more benefits in all 2 seaters, 4 seaters, or 6 seater variants.
They are designed to be used in hilly areas and they offer an extended range of about 40-45 miles between charges compared to the 36-volt cart.
The range may decrease if the battery is old or tires are worn out.
Does An Electric 4 Seater Golf Cart Have A Governor?
Governor is a device that keeps the speed of your 4 seater golf carts under a certain limit. If you were to adjust the governor or completely bypass it, you could see an increase a speed by 4-5 mph.
Governor only applies to gas 4 seater golf carts. It is not present in electric variants. The electric 4 seater golf carts incorporate motor controllers to adjust the amps from the battery to the motor to control the speed.
Should I Buy A New Or Used 4 Seater Golf Cart?
Buy New 4 Seater Golf Cart for Sale
That depends on your requirement.
If you prefer a brand new 4 seater golf cart with a full warranty, you should buy a new golf cart.
In case you are limited by your budget, there is no problem with buying a used 4 seater golf cart. You get to enjoy features offered by new golf carts but also save thousands of dollars on the purchase. You should negotiate the price depending on the condition of the golf cart, its age, battery condition, tire condition, etc.
It has a great advantage to buying a new vehicle as the price of a new 4 seater golf cart begins to depreciate the moment you pay for it and take it out for a run.
What Is The Payment Procedure To Buy 4 Seater Golf Carts?
The procedure for buying 4 seater golf carts after you have finalized the budget and selected the manufacturer is as follows:
First of all, you contact the sales and representatives team of the manufacturer and collect all the information you need about the available designs
You pay 40% of the payment in advance.
The manufacturer confirms and processes your order.
The manufacturer gets back to you once the process is complete.
You provide all the shipping details to the manufacturer and pay the remaining 70%.
The manufacturer ships the order to your desired location.
You inspect the vehicles and confirm that you have received your goods.
What Type Of Motor And Batteries Are Used In A 4 Seater Golf Carts?
4 Seater Golf Carts Motor & Parts
Usually, there are 4 types of batteries available on market to be used in a 4 seater golf cart:
Flooded or 'wet type' batteries
AGM lead-acid batteries
Gel lead-acid batteries
Lithium-ion golf cart batteries
Lithium-ion batteries are widely popular as they are maintenance-free and tend to last 3-5 times more than lead-acid batteries and they also weigh lesser.
Two types of batteries are commonly used in 4 seater golf carts:
Now AC motors are widely used due to the absence of carbon brushes that tend to wear fast.
How to Choose the Reliable 4 Seater Golf Cart Manufacturer in China?
While selecting a 4 seater golf cart manufacturer in china, consider the following points:
The golf cart manufacturer follows the highest standards of safety while manufacturing the carts.
The manufacturer provides high-quality products and can ship from any port of China to you.
The manufacturer offers competitive prices and attractive aftersales services.
The golf cart manufacturer communicates clearly with you or your agent.
The manufacturer offers additional services like 24/7 technical support, multiple design variations, container loading, multiple modes of payment, etc.
Do China Manufacturers Have Small 4 Seater Golf Carts For Sale?
China-based manufacturers also deal in assembling and manufacturing small 4 seater golf carts for sale.
These golf carts have usually 10% smaller dimensions than the usual variants. They incorporate a 24V or 36V battery to turn the motor.
Such golf carts are available for 3000-4000 USD.
Do China Manufacturers Have Lifted 4 Seater Golf Carts For Sale?
Lifted 4 Seater Golf Carts For Sale
Lifted 4 seater golf carts have additional ground clearance as compared to other variants. They tend to present a sporty and rugged look to the golf cart.
Usually, 4 seater golf carts have a ground clearance of 5 inches that can be increased to 8", 10", 12", 14" using a special lifting kit.
China manufacturers also deal in lifted 4 seater golf carts. They are slightly expensive than other variants due to custom tires.
What to Do If You Need Spare Parts for Your 4 Seater Golf Cart?
That depends on the part that you are looking for. Spare parts like headlights, seats, steering panels, motors, batteries, brake shoes, cables, etc. are available in the local market and are not very hard to find, but you should look for quality products.
You should always use OEM products available at the dealerships with your golf carts to maintain safety. Using low-quality or aftermarket spare parts can void the warranty and can lead to problems with the operation of the golf carts in the future.
For original spare parts, you should visit the dealership or the manufacturing factory. Otherwise, you need to submit a query to the manufacturer regarding the parts you need.
How Much Electricity Is Consumed By 4 Seater Golf Cart While Charging?
Electricity consumed by a 4 seater golf cart depends on the following factors:
Size of the battery
Condition of the battery
Size and condition of the charger
How often do you recharge your golf cart
For example, an average-sized 4 seater golf cart uses a 48V battery. Such a battery takes about 8-15 hours to fully charge a depleted battery. While 4-5 hours are enough to charge a new battery.
The amount of electricity consumed depends on the energy consumed by the battery in one hour of charging. A 120V charger that draws 10A yields a power of 1200W or 1.2kW. This energy is being used by your golf cart in one hour. For a full hour of charging period, 6 electricity units are consumed.
Multiply that by 6 hours of charging you get total electricity consumed by your golf cart in a charging period of 6 hours.
How Do You Maintain A 4 Seater Golf Cart?
Maintenance cost is much less in the case of electric 4 seater golf carts. Due to fewer moving parts and the absence of an IC engine, electric golf carts are easy and inexpensive to maintain.
Charge the batteries when golf carts are not in use
Check the water level in batteries regularly
Keep the battery terminal corrosion free
Keep the tires at optimum pressure
Inspect the braking system every month for leakage
Inspect the cart for oil leaks and vibrations
Charge the cart in a dry and well-ventilated area
Replace the batteries after their lifespan is over
What To Inspect In Your 4 Seater Golf Cart After Delivery?
Once your 4 seater golf carts are delivered to you, you should carry out a thorough inspection to make sure the cart didn't get damaged during the delivery.
Do the following:
Carefully inspect the body of the cart to make sure it is free of cracks and damages
Turn the power key ON to make sure electrical connections are secured
Inspect the batteries to make sure the body is free of cracks
Inspect the accessories and make sure everything is delivered
Inspect the steering wheel, pedals, motor, etc.
What Safety Rules Should You Follow While Operating 4 Seater Golf Carts?
4 seater golf carts are slow-moving vehicles and are not as safe as commercially available highway cars. They do not have airbag protection or rollover protection generally. So caution must be taken to ensure your safety
You should read the user's manual before operating your golf cart to get an idea of the maximum weight allowed.
Never operate the vehicle under the influence of alcohol, drugs, or medication.
Do not drive at speeds exceeding 15mph on slippery or wet surfaces.
Never exceed the passenger and cargo weight limits of your cart.
Avoid sharp turns on inclines and at high speeds. It may cause the cart to roll over.
Reduce speed on wet and slippery surfaces and in turns.
Do not allow children to operate the golf cart.
Set handbrake engaged before leaving the cart
Remove key when leaving a vehicle unattended.
Stop the vehicle completely before reversing direction.
Be aware of small children and objects behind you before reversing direction.
There are so many options available to choose from in the golf cart and golf buggy market. In one category of 4 seater golf carts, you will find plenty of options.
The guide talks about the ways you should choose the 4 seater golf cart. Golf has gained tremendous popularity in the past decade and competition has grown when it comes to 4 seater golf carts.
We hope after reading this FAQ guide, you are more educated regarding this business and in a better position to make a decision on which type of golf cart to buy, where to buy it, and how to maintain it.