6 Seater Golf Cart for SaleYour Best Manufacturer and Supplier in China
Trusted by 10,000+ Clients
6 Seater Golf Carts for Sale at Best Factory Price
Maintenance-free Battery and Lithium Battery are Available.
Made By A Leading Global Manufacturer Of 6 Seater Golf Carts.
Low Wholesale Price For Bulk Purchase With Quick Delivery; 7-15 Days.
Excellent After-Sale Services, Great Warranty, And Free Spare Parts.
Stylish Design, Easy Customization For Different Applications, Sturdy, Reliable Chassis.
Your Premier 6 Seater Golf Cart Manufacturer in China
XUNHU is among the premier golf carts manufacturer in china. Competing with other global manufacturers, the quality is always top-notch.
The manufacturing features the best materials. Whether it's motors, batteries, or general structures, you can specify in your order. Driving 6 seater golf carts is also comfortable due to premium suspension.
XUNHU lets you decide the optional features you want. Whether it's side mirrors, full cart enclosure, candy cooler, they are all customizable. You can specify the kind of 6 seater golf cart you want.
By utilizing some of the latest manufacturing, 6 seater golf carts by XUNHU are leading. You get the best golf car from the best manufacturer.
Xunhu 6 Seater Golf Cart for Sale Cases
XUNHU 6 seater golf carts are popular among different users. They are in use in various golf courses, farms, institutions, among others.
The golf carts are in use around the world in different countries. You can find them in Russia, Nigeria, Pakistani, Bangladeshi, and others. There are 100+ countries where to find XUNHU golf carts.
Xunhu 6 Seater Golf Cart Manufacturing Capacity
Cutting Of 6 Seater Golf Cart Parts Involves High-Precision Laser Machines. Precise Cutting Ensures A Smooth Process Without Dents.
Xunhu Uses Compressions Stamping Line, Which Ensures Premium Panel Manufacturing.
6 Seater Golf Cart Frame Production Line Has High Capacity And Precision For High-Reliability Carts.
A Specialized Painting Workshop Guarantees Superb Work; Paint Is Also Weatherproof And Long-Lasting.
Xunhu Has A State-Of-The-Art Assembling Line With A Vertically Integrated Production Process; There Are High-Quality Carts.
Xunhu Delivers Every Golf Cart That Is Fully Tested; A 5km Testing Track Helps Achieve Thorough Testing.
XunHu 6 Seater Golf Cart for Sale Advantages
6 Seater Golf Cart Customized Color
Certified by CE, BV, GOST, SGS, and ISO, Xunhu is a professional manufacturer of 6 seater golf cars for sale in China.
Top-notch safety and quality standards are followed while assembling the golf carts 6 seater.
Xunhu prides itself by using the latest manufacturing practices to make sure that your golf car 6 seater is safe and reliable.
On our 5 km long testing track, a dedicated team of technicians supervised by competent engineers carries out different necessary tests for 6 seater lifted cart to ensure maximum quality.
Trusted by more than 10,000 clients from all over the globe, Xunhu offers quality features like a stylish appearance, smart steering system, bright LEDs, strong body kits, and sturdy chassis.
Being a leading 6 seater for sale golf cart manufacturer in China, Xunhu offers reliable shipping all over the world from all major ports in China for Chinese golf carts.
Looking for an affordable 6 seater golf cart price? Visit our factory today and choose from a long range of designs and various payments methods.
Best 6 Passenger Golf Cars for Sale with Cheap Price and Free Accessories
Equipped with fun features like bright LEDs, stylish appearance, comfy seats, weather-resistant coating, and increased range. per charge, Xunhu 6 seater golf cart for sale is best for golf courses and neighborhood driving.
Buy the best 6 seater golf cart from Xunhu that comes installed with the independent suspension damping system that intelligently reduces the vibrations and gives you an ultimate driving experience.
Choose from a variety of accessories available at Xunhu, and modify your electric golf carts for sale 6 seater the way you prefer. Perfect for outdoor traveling, sightseeing, camping, and short family trips.
Xunhu offers the best 6 seater golf car that requires near-zero maintenance, is fun to drive, and is inexpensive to maintain. Choose from a wide array of colors and custom options.
Your Top 6 Seater Golf Cart Manufacturer and Supplier in China
Your top 6 seater golf manufacturing company in China is XUNHU. Having a reputation of 10+ experience, there are no doubts when you think about quality.
Besides the experience, XUNHU makes different types of 6 seater golf carts for sale. Whether you want a custom design, colors, or other features, there is easy customization.
XUNHU is one of the manufacturers that attends exhibitions every year. Being a member of CAAPA, you can be sure about the quality of golf carts.
The certification of 6 seater golf carts and other electric vehicles, and trackless train rides improve the trustworthiness. You can buy a golf cart while knowing it's a quality one.
6 Seater Golf Cart: The Ultimate FAQ Guide
There are different types of golf carts for sale. Which one would you like to invest in? Six seater golf cart seems excellent since it balances the capacity and size.
Besides, these golf carts have powerful motors, batteries, and incredible maneuverability.
If you intend to buy golf carts, this 6 seater golf cart ultimate guide is handy. It provides every detail you need before making a purchase.
Read the outline now…
How Much Does A 6 Seater Golf Cart Cost?
Golf carts cost differently depending on the brand and specifications. So buying at a wholesale price from China saves you a lot.
Usually, a wholesale price ranges around $3,500-$4,500. Buying a standard version will cost you less, while custom ones can be a bit expensive.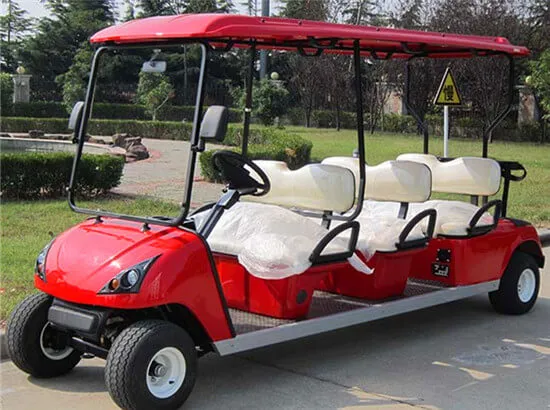 2, 4, and 6 Seater Golf Cars & Golf Buggy, How to Choose?
Choosing between the available options of golf cars can be tricky. You will find yourself wondering which one is best for your purpose.
There are different models of golf carts for sale. You have the option to buy 2 seaters, 4 seater, and 6 seater golf carts. Also, there is a golf buggy which means options are never limited.
In general, the things you need to know before buying a golf cart are similar. What differs are just minor issues since they can be serving different purposes.
Regardless of the type of golf cart or golf buggy you are buying, features and qualities are similar.
Warranty
Warranty is an important aspect when you are buying any type of golf cart. An extended warranty means the cart quality is more reliable.
This gives you more benefits, mainly when your cart develops problems.
Certification
Before you buy 2 seater or 6 seater golf carts, ensure you have details about certification.
Many certifying agencies ensure you get the best golf carts. Always check for the most crucial standardization marks. The common ones are CE, ISO, BV, and others.
Price
The price is one of the determinants of electric golf cart affordability. Some of the brands are cheaper, yet their golf carts are of high quality.
6 seater golf carts will sell at a higher price than 2 or 3 seaters. However, the larger the golf cart, the better the operating economics.
Electric vs gas golf carts
You can choose different seater electric or gas golf carts. Manufacturers like XunHu specializes in making electric golf carts.
Electric golf carts are better due to their low maintenance cost and pollution-free nature. However, they need more time to recharge once batteries get drained.
On the other hand, gas-powered golf carts are noisy and emit harmful fumes. However, they don't need recharging and are easy to refuel when needed.
What Is The Best 6 Seater Golf Cart?
The best 6 seater golf carts are only available in XunHu. You can't go wrong when you source these golf carts wholesale.
XunHu manufactures premium quality 6 seater golf carts for sale. The reputation of making the best golf carts is known worldwide. That is why many customers rely on the manufacturer for the carts.
Besides the quality, XunHu also installs some of the latest features. For example, a standard golf cart from XunHu has better qualities than rivals.
How Long Is A Six Seat Golf Cart?
Golf carts come in different sizes, even if they are 6 seaters. Therefore, you need to determine the size of your golf carts before buying; this decides whether they can fit in your truck during transportation.
An average golf cart measures around 2.40 m long, 1.20 m wide, and 5.9 feet high.
For 6 seater golf carts, the average size is 3.71 cm long, 1.78m wide, and 1.19 m high.
The dimensions are different and increase are the number of seat increases. For instance, an 8 seater golf cart is larger than 6 seater. Similarly, 4 seater is bigger than 2 seater golf cart.
What Is The Most Reliable 6 Seater Golf Cart?
Reliability is one of the key elements that a golf cart should hold. Not every brand has the same reliability as others. However, you can get a reliable 6 seater golf cart by doing enough research.
One of the most reliable 6 seater golf carts you can buy from XunHu. It's one of the manufacturers recolonized around the world for premium golf carts.
Making a range of models, you can get various electric golf carts that are high-performing.
Some reliable carts are 6 Passenger Electric Golf Cart B and 6 Passenger Electric Golf Cart A.
They are super duty golf carts that meet international standards.
How do I Find the Best 6 Seater Golf Carts Supplier in China?
Finding the best 6 seater golf cart manufacturer in China is not complicated these days. In the age of the internet and fast means of traveling, you can accomplish your goal easily.
Some of the ways to find and identify op rated manufacturers include;
Attending trade fair and exhibitions
Attending exhibitions is one of the surest ways to get the best manufacturers. These days, you can attend the exhibitions physically or through online platforms.
Virtue exhibitions have become popular, especially with the strike of the COVID-19 pandemic. You don't need to travel to China to attend these events.
Inquires
There are many ways nowadays you can make inquiries. You can use emails, social media and others to get quick responses and make easy contrasts.
Unlike older days, today, you can make a comprehensive comparison while at the comfort of your home.
Company reviews
There are tons of information available online. You can use it to make a personal decision against different golf cart manufacturers in China.
You can find the information from different websites dedicated to reviewed golf cart manufacturers. However, ensure you only get information from authoritative websites.
Recommendations
Recommendations are great since you get information from experienced golf cart user. If you know an individual already with 6 seater golf carts from China, you request the user to give seller details.
Buying through recommendations is ideal since you are sure about golf carts' quality.
What Do I Need To Know About Buying A Golf Cart?
Having information about what you intend to buy is important. But, it is not always the case.
When buying 6 seater golf carts, you don't need to be an expert in this golf equipment. As long as you have a trustworthy manufacturer, there is nothing to worry about.
A manufacturer like XunHu is reliable always offers information when buying golf carts. The team of support explains to you every detail about these carts.
Even for newbies, the manufacturer should offer assistance when buying golf carts. This means you get the best golf carts without struggling.
How Long Will A 6 Seater Golf Cart Last?
Golf carts can last for anywhere between 5-7 years. This is according to experts. However, the durability of your 6 seater golf cart will depend on the level of maintenance.
A well-maintained golf cart can last up to 10 years. All you need to do is provide timely maintenance and proper use of the golf cart.
Failure to provide maintenance will see your golf cart deteriorate faster. Also, allowing inexperienced drivers to operate will lead to more damages.
What Is The 6 Seater Golf Cart For Sale Price?
The price of a standard 6 seater golf cart for sale is around $3,500 to $4,000. But when you need a custom one, you need to cough more money.
Custom features can see your 6 seater golf cart price shoot up to $5,000. The price is a determinant of the model and available features.
Besides, seasons also can determine the price you will buy your golf cart. During the peak seasons, expect prices to be the highest.
What Color Are The 6 Seater Golf Carts For Sale?
Colors aren't fixed when you think about 6 seater golf carts. There are different colors you can choose to meet your needs and expectations.
Some of the standard colors for 6 seater golf carts include;
White
Yellow
Orange
Green
Sky blue
Lime
Navy purple
Black
Pearl
Beige
How Big Is A 6 Person Golf Cart?
A standard 6 seater golf cart isn't as big as you would imagine. But, the size, weight, and other aspects depend on the type of golf cart.
Electric 6 seater golf cars are a bit larger and heavier. This is due to batteries and DC motors which are slightly heavier. The extra space is to accommodate the motor and other accessories.
Gas-powered golf carts are lighter and compact. Actually, they are up to 100kg lighter than electric golf carts.
On average, 6 seater golf carts measure around 3.71 cm long ×1.78m wide × 1.19 m tall.
How Much Do 6 Seater Golf Carts Weigh?
6 seater golf carts are pretty large than 2 and 4 seater golf carts. Therefore, they weigh more pounds than smaller golf car.
Whether you are buying electric or battery-powered 6 seater golf carts, they have standardized weight.
Electric 6 seater golf carts have an average weight of 476 kg with batteries. However, when batteries are removed, they weigh 453 kg or less.
The weight can change, especially when you order a golf cart with customized accessories. The addition of extra accessories will lead to more weight.
 What Models Of 6 Seat Golf Carts For Sale From Xunhu Company?
XunHu has a variety of models of 6 seater golf carts for sale. You can order standard ones or custom.
Some of the popular models include;
6 Seater Electric Golf Cart M4+2
Lifted 6 Seater Electric Golf Cart
What Should I Look For When Buying A 6 Seater Golf Cart?
As you plan to add a 6 seater golf cart into your fleet, it's essential to check for the vital qualities.
Going feature by feature ensures you take a home best golf cart.
These are some of the questions you need to ask answer when buying 6 person golf cart.
Di I go for Gas vs electric golf cart?
Should I buy Used, new or refurbished?
What is my budget? How much is 6 seater golf cart?
What is the best brand and available models?
What are the standard features? Are there custom accessories?
How hard is the maintenance of the cart?
After you answer these questions, you will be able to settle on the ideal golf cart.
How Are 6 Seater Golf Carts Packed For Delivery?
Shipping of 6 seater golf carts is straightforward. The delivery from China to the destination features different modes of transportation.
To ease the shipping process, golf carts come packed in containers. This enables safe and convenient transportation without damages.
A company like XunHu uses different approaches to ensure all golf carts arrive safely.
The process involves wrapping golf carts are placing them in enclosed containers.
Transportation involves the ocean as well as trucks or trains to your destination. Besides ease of transport, containers are great to protect your carts from weather elements.
What Is The Payment Terms of Buying 6 Seater Golf Cart?
When you buy 6 seater golf carts from China, the good thing is you have different modes of payment. Also, unlike some years back, there are various modern and safe ways to make payment.
Some of the primary payment methods include;
Letter of credit
Documentary collection
Contract advance (T/T finance)
Import factoring
Payoneer
PayPal
Debit/credit cards (Visa, Master cards, American express)
Do 6 Seater Golf Carts For Sale Come With A Warranty?
Yes, 6 seater golf carts come with varying warranties. The warranty terms and conditions vary from one manufacturer to another.
If you shop 6 seater golf carts for sale from XunHu, the warranty period is impressive. You get a full year warranty cover for the whole golf cart.
Besides, you can buy an extended warranty by paying a small fee. During delivery, XunHu ship 6 seater golf carts with free parts. This is to ensure no struggle changing fast wearing parts.
Regardless of where you are buying golf carts, a warranty is part of the sale agreement. It guarantees that the golf carts are reliable and of high quality.
Are All 6 Passenger Golf Cart Street legal?
6 seater golf carts are for use in private functions. That is, you can use them in golf courses, hotels, farms and other areas. However, they aren't street legal unless they meet some set conditions.
The requirements for golf carts to be allowed in the street are different from state to state. However, you can add the necessary features and make your 6 seater golf cart street legal.
These are the requirements for your golf cart to run on the road;
Functioning lights; handbrake, brake, signals, and tail lights
Working dash with speed counters
Special license plate
Approved tires
Working horn
Meet minimum highway running speed
Reflectors at designated points
Windshield and wipers
How to Test the Quality of 6 Seater Golf Cart before Delivery?
It is hard to tell the quality of 6 seater golf car when buying. This is the work of an experienced quality assurance inspector. However, this doesn't translate to buying substandard 6 seater golf carts.
You can take some of the actions to ensure only the best quality carts get to your home. Some include;
Hiring an independent quality inspector agency
Hiring a quality inspection agency might be a bit costly. But, it is worth especially when you are buying 6 seater in bulk. Having an independent quality evaluator saves you from substandard golf carts.
Visit factory during the manufacturing process
You can opt to visit the manufacturer to see their manufacturing process. Booking an appointment with the manufacturer will enable you to see different production stage.
Visiting a factory is an efficient, proactive way of ensuring quality adherence. In the early stages of production inspection, the better to identify defect and changes.
Specify your requirements
It is essential to specify your 6 seater golf cart specifications. By submitting your specs, you can be sure the manufacturer will follow every detail.
It is always essential to specify your requirements. Always never assume the manufacturer will deliver to your expectations without you writing them down.
Check manufacturer credentials
Certification is one of the ways to qualify or disqualify manufacturers. If the company has certificates from leading laboratories, you have high chances of getting high-quality golf carts.
A manufacturer without certifications isn't worth risking your money. Some of the certificates to check include ISO, CE, BV, and mother-leading agencies.
How Long Does 6 Seater Golf Cart Battery Take To Charge?
Typically, electric 6 seater golf carts come with rechargeable batteries. They take a while to charge and requires several hours.
Most of the golf carts will take somewhere between 8-10 hours. This is the ideal time to ensure batteries are fully charged and lasts long.
Are 6 Seater Golf Cart Customizable?
Yes, 6 seater golf carts are customizable. You can request custom features from the manufacturer. Also, you can have your golf carts customization while delivered. Some of the features you can fix them quickly.
Some of the customizable features you can get for your 6 seater golf cart includes;
Side mirrors
Lighting system
Decorative lights
Seat belts
CD player
Cargo box
Sunshade curtains
Candy cooler
Weather enclosure
Branded parts
Sand bottle '
PA system
How to Customize 6 Passenger Golf Carts?
There are different things you can customize when you get 6 passenger golf carts. Some features are simple to install, while others will need an expert.
The customization entails;
Lift kit
Lifted golf kits have more maneuverability and can travel on extreme surfaces.
The lifting process involves the addition of custom suspension and frame. This increases cart height hence easy to handle rough terrain.
You can opt to add
Spindle lift
Axle lift
Long travel lift
Seat customization
Most of the 6 seat golf carts coke with standard seats. But, you can opt to install custom ones.
The customization of seats involved the addition of more cushions. Also, you can change the cover materials. Adding more durable cover materials is ideal for extended life shelf.
Apart from cushioning, seat design is also an option. You can have to change the overall design to increase comfort.
Custom color
Color is one of the easiest customizations you can achieve. You can decide to keep factory color or repaint your 6 passenger golf cart.
Bluetooth speakers
Most carts come without speakers and a music system. However, you can install Bluetooth speakers to keep visitors entertained.
Adding powerful Bluetooth speakers ensures cool music to your customers.
Upgraded controllers
Upgrading your 6 seater golf cart controller is vital if you want it to experience quick acceleration. Besides, a custom controller is excellent for a golf cart to enjoy more torque.
How Do I Buy 6 Seater Golf Cart From China?
Buying 6 seater golf carts for sale from china these days is not difficult. By following the right process, you can accomplish it without any technicality.
If you want to import 6 passenger golf carts from China, follow these simplified steps.
Set your goals right
Select your 6 seater golf cart manufacturer
Make a deal with your manufacturer
Get into a contract with the manufacturer
Decide on the best transportation mode
Choose a custom and forwarding agents
Keep all your legal documents in place
Understand tariffs and taxes within your area
Get ready to receive your shipment
Are There 6 Seater Golf Cart For Off-Road Uses?
No, 6 seater golf carts aren't for off-road uses. They are designed to run on smooth surfaces.
However, if you have a lifted 6 seater golf carts, they are ideally suited for off-road conditions.
A standard 6 person golf cart isn't suited for use in off-road conditions.
What Is the Average Range For Electric 6 Seater Golf Cart?
Modern electric 6 seater golf carts can attain a range of over 70 kilometers (45miles). However, the range isn't fixed; it depends on the way you use your golf cart.
When the golf cart moves on a flat surface, it can deliver more range than in slope. Also, when it is in full capacity, it has a reduced range than when empty.
The type of batteries also determines the overall range. There is a difference in range coverage when using Li-Po batteries and lead-acid batteries.
What Are The Standard Features In 6 Seater Golf Cart?
When buying 6 seater electric golf carts, some features are standard. Regardless of the manufacturer, the features are present even without you specifying.
Some of the standard features you should expect in your golf cart are;
Batteries
Controllers
Charger
Windshield
Golf bags attachment
Padded seats
Canopy
 Is It Possible To Modify 6 Seater Golf Cart?
Modifying your 6 seater golf cart is possible. Whether you want to upgrade it to a lifted golf cart or adding components, it's possible to change it.
Modifying of 6 person golf cart should be done by experts. This ensures there is maintained balance for stability purposes.
Also, the golf cart is modifiable to be used for carrying luggage or other items. Due to their robust nature, these golf carts are great for multiple applications.
Are There Lifted 6 Seater Golf Cart for Sale from Xunhu Company?
XunHu is a manufacturer of different equipment. Therefore, you can be sure to find various models of electric 6 seater golf carts.
There are different types of golf carts in XunHu. You can buy 2 seaters, 4 seaters, 6 seaters and 8 seaters. Depending on your needs, you need to order a perfectly matching model.
How do I Wholesale Golf Carts from China?
The best deal you can get is getting golf carts from China at wholesale price. Most manufacturers, including XunHu, sell their electric golf carts at wholesale price.
Besides selling golf carts at a wholesale, Chinese manufacturers are easy to reach. They have different contact platforms where you can order your golf carts.
To wholesale electric golf carts from China, you need to;
Check available manufacturers from directories
Check manufacturer location
Compare prices of different manufacturers
Check the minimum quantity you can order
Choose your preferred manufacturer
Check manufacturer reputation and capacity
Company accreditation
How Are 6 Seater Golf Cart Manufactured?
The manufacturing of golf carts is a complex process. It involves series of processes and the use of different materials.
The process involves;
Collection of raw materials
Designing of a 6 seater golf cart
The onset of the manufacturing process
Construction of body panels and golf cart floor
Fabrication of chassis and painting
Sub-assembling of transaxles
Assembling of battery charger
Axles and chassis assembling
Fixing various components
Fixing final features
Visual inspection
Quality control stage
Are 6 Seater Golf Cart Easy To Convert To Lifted Golf Carts?
When the golf carts are in your compound, you can also decide to modify them. Different lifting kits are available on the market. For professionals, you can even create your custom lift kit.
The lift kits are fantastic and are available in a variety of sizes. Some will give your cart a 2 inch, 4 inches, 6 inches, 8 inches more ground clearance.
It all depends on the surface condition. For places with rough surfaces, it is ideal to choose a larger lift kit.
Fitting 6 seater golf cart lift kit is easy as long as the expert is doing the work.
What Are The Optional Accessories And Parts For 6 Seater Golf Carts?
The good thing is there are optional parts for 6 passenger golf carts. As you buy from the manufacturers, they should explain when the standard features in your golf carts are.
In most cases, some of the optional features differ from one manufacturer to the other. Some of the general optional accessories parts include;
Off-road tires
Golf cart cover
Closed roof
Air conditioner
Entertainment system
Rooftop cargo carrier
Seat covers
New wing flares
Windshield
Attached cooler/ caddy/cargo box
What Are The Type Of Batteries Used In 6 Seater Golf Cart?
There are different types of batteries that are in use in electric golf carts. Each had its pros and cons.
The choice of batteries depends on the manufacturer. They can decide to use flooded, AGM lead-acid, Gel lead-acid and lithium-ion batteries.
Whichever the case, the battery used should provide the best performance and range. Some of the manufacturers will allow you to choose the preferred batteries.
Before you opt for ideal batteries, here is a simple comparison
| | |
| --- | --- |
| Lithium-Ion battery | Lead-Acid Battery |
| 5000 charge cycle | 1000 charge cycle |
| Maintenance-free | Requires water and acid |
| No power loss | Power loss as voltage dips |
| Faster recharge rate | Slower recharge rate |
| Weigh less | A bit heavy |
| Expensive to buy | Cheap to buy |
Can 6 Seater Golf Cart Be Used as a Utility Vehicle?
When you have a 6 seater golf cart, you can modify it to a utility vehicle. The robust structure and motor mean it has power for function as a utility vehicle.
Utility vehicles have an extensive design and more powerful to enable them to perform tougher jobs.
With simple tweaks, you can enjoy your 6 passenger golf cart as a utility vehicle. You only to add strong tires. Also, you need to add signals, cargo box, lift kit, headlights and seat belts.
Modifications aim to add more power to your golf cart. This will allow it to perform flawlessly as a utility vehicle.
Should I Buy A New Or Used 6 Seater Golf Cart?
Buying 6 person golf cart requires a substantial amount of capital. But, you can buy used golf carts from reputable firms.
Buying a new golf cart gives you more peace of mind and benefits. The biggest of all is that new carts come with a warranty. This ensures you are entitled to repairs and part replacement during the warranty window.
Additionally, new golf carts offer you more years of use than used ones.
On the other hand, when you have capital restrictions, you can opt for used golf carts. One main advantage of used carts is they are pretty cheap. They are thousands of dollars cheap.
A pre-owned golf cart doesn't depreciate like motor vehicles. Therefore, you can be sure they are still in good condition.
Before you go for a used 6 seater golf cart, ensure you buy from reliable sources.
Are Electric 6 Seater Golf Cart Better Than Gas?
Electric 6 seater golf carts are far much better than gas carts. Many things make these golf carts better and ideal for purchase.
Here are the reasons electric 6 seater golf carts are better than gas
| | |
| --- | --- |
| Electric 6 Seater Golf Cart | Gas 6 Seater Golf Cart |
| Fast acceleration | It takes time to accelerate |
| Low maintenance cost | High maintenance cost |
| Silent operation |  Noisy engine |
| Eco-friendly operation | Polluting tailpipe exhaust gas |
| Takes time to charge | Easy and quick refueling |
| | |
What Are the 6 Seater Golf Carts Applications?
6 seater golf carts are multipurpose and have a lot of applications. Once you have it, you can use it for a variety of jobs.
Some of the most notable applications include;
Rural transportation
Use in golf courses
Professional landscaping
Use as a utility vehicle
Application in farm activities
Airport passenger transportation
Victors transportation in hotels
Students transportation in collages
Gardening and other farm applications
Does 6 Seater Golf Cart Come With Windshield?
6 seater golf carts are available with or without windshields. It depends on where you buy your cart from.
However, most of the Chinese manufacturers these days are making windshields a standard feature.
You can specify whether you need your 6 passenger golf cart with or without a windshield.
What Are Materials Used In Making 6 Seater Golf Cart?
Golf carts are manufactured from durable materials. Just like motor vehicles, they are expected to perform excellently. Therefore, they need superior materials that allow durability and performance.
Most materials you find in 6 seater golf carts include;
Steel plates
Steel tubes
Aluminum sheet
Fiberglass
Reinforced plastic fiber (RPF)
Plastic
Foam
Fabrics
Rubber
Glass
Do 6 Seater Golf Cart Have Cargo Boxes?
Most of the space in 6 seater golf carts features seats. There is less space left for the cargo boxes. This makes these carts have a limit to what they can carry besides the passengers.
Although they lack cargo boxes, the carts can accommodate small luggage. The massive design is also excellent since passengers can carry their golf bags easily.
The carts can also have caddy or cargo boxes fitted when the buyer specifies.
In standard nature, 6 seater golf carts don't come with cargo boxes.
How Do I Maintain 6 Seater Golf Carts?
Maintenance and servicing your 6 person golf cart is vital. It gives it an extended lifespan which is essential for maximizing the productivity duration.
Whether it's an electric or gas 6 seater golf cart, you need to these maintenance practices regularly.
Always charge your batteries
Check battery water level and fill appropriately
Keep tires properly inflated
Clean batteries from dirt and spills
Maintain brakes working correctly
Check for oil leaks
Ensures correct weight loading
Do through repair once every year
Use the suitable chargers and voltage
Change oil filters when necessary
Keep air cleaner clean
Check battery charge holding capacity regularly
How About 6 Seater Golf Cart Hill Climbing Ability?
6 seater electric golf carts have great power. They have large motors which are capable of carrying massive weight and climb a slight slope.
Most of the modern electric 6 passenger golf carts can attain 20-25% hill climbing. This enables them to be usable in different golf courses. So even for farms, you can use them with great confidence.
What Are Suspension Types Used In 6 Seater Golf Cart?
6 seater golf carts have a suspension system to enable smooth rides. Whether it's standard or lifted golf carts, they must have a suspension system.
The most common type of suspensions you find in golf carts are;
MacPherson suspension system
Leaf spring suspension system
Besides, there is a specialized type of suspension system for lifted 6 seater golf carts. You can order your cart with or install it after delivery. Some of the lift kits are;
A-Arm Lift Kits
Drop Axle Lift Kits
Block Lift Kits
Long Travel Lift Kits
Does 6 Seater Golf Cart Have Same Voltage?
No, 6 seater golf carts don't have universal voltage. However, some have more voltage since they have a different number of battery packs.
The voltage depends on the manufacturing company. The number and type of batteries installed are not standard across the industry. That is the reason these carts have varying ranges.
Although the voltage differs from one manufacturer to another, the standard voltage is 36, 48, and 72 volts. Higher the voltage, the more powerful and travel range.
How Much Time Does It Take To Deliver 6 Passenger Golf Carts To You?
Delivery time for 6 seater golf carts isn't similar. The distance and other factors affect the time manufacturer will take to deliver your order.
A manufacturer like XunHu has a standard delivery time that ranges from 7-15 days. However, the average time is more, especially from other manufacturers.
If you go by, the standard time is longer, especially if you are far away from China.
Figure 45 6 passenger golf cart ready for shipment
What Are The Advantages of Buying A 6 Seater Golf Cart From China?
Most people prefer to buy 6 seater golf carts from China. The development of reliable and high-quality products makes everyone love Chinese golf carts.
But, what are the main advantages of buying 6 seater golf carts from China?
Speedy manufacturing and delivery
Highly affordable quality golf carts
Superior and satisfactory results
Cheap labor
Cheap, available raw materials
Prompt services and after-sale services
High quality certified golf carts
High flexibility among the manufacturers
How to Buy 6 Seater Golf Carts from China during the COVID-19 Pandemic?
During the COVID-19, travel restrictions have seen a change in how people used to buy golf carts from China. Despite this, it is possible to buy 6 seater golf carts without significant hassle.
Due to lockdowns, buying from China during the pandemic can experience delays. In addition, with reduced staff in the manufacturing facility, it will take you more days to get your golf cart.
Besides delays, the purchase process has changed also. These days, online purchases will be more efficient than traveling to china.
With every process available online, expect to see a lot of change when buying 6 seater golf carts from China.
Electric 6 seater golf carts are amazing and economical to operate. China has plenty of manufactures making these golf carts at affordable prices.
Besides getting golf carts at an affordable price, the quality is also superb.
Whether you want standard or custom-made 6 person golf carts, you have all options available. The custom-tailored golf carts are affordable, unlike in other markets.
Above all, there are tons of benefits when you source your golf carts from China in bulk. Cheap prices, fast delivery, and others are some of the benefits you experience.